Here are the patch notes for today's hotfix Fortnite summer event update.
Last week, Epic Games released the v25.11 update. There wasn't a lot of new content that was released in that patch update. We did get the pump shotgun back in the game.
However, most of the new content that was added was encrypted for the Fortnite Summer Escape 2023 event. Earlier this morning, the content was decrypted.
At 9 AM ET, the Fortnite 2023 summer event went live with some minor map changes, a couple of new items, a bunch of challenges, and some free cosmetic rewards.
Here's a look at all the changes and new features introduced in the 4th July 2023 Fortnite Summer Update.
Fortnite Summer Update Patch Notes 2023
The Sunswoon Lagoon is a celebration location that was added in today's Fortnite summer update. The location will close once Summer Escape ends on July 18th.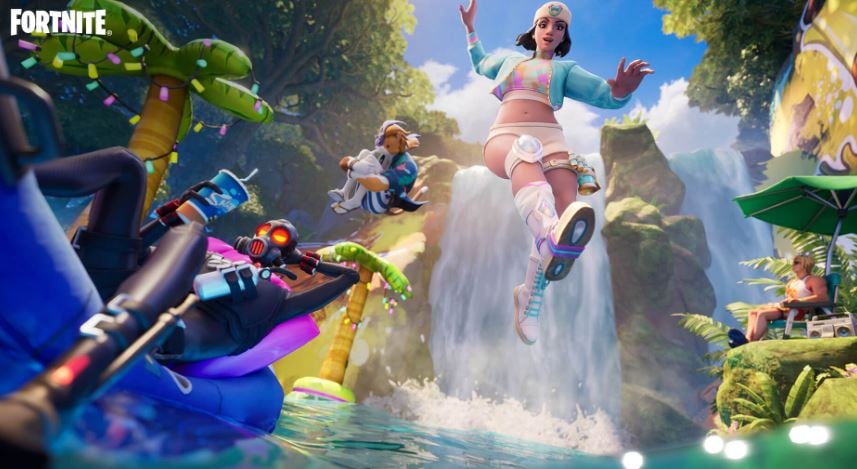 Epic Games unvaulted some items including the Frozen IceCream Cone and Lil Whip's Special Serve. These are all the types of IceCream Cones that are available during the summer event: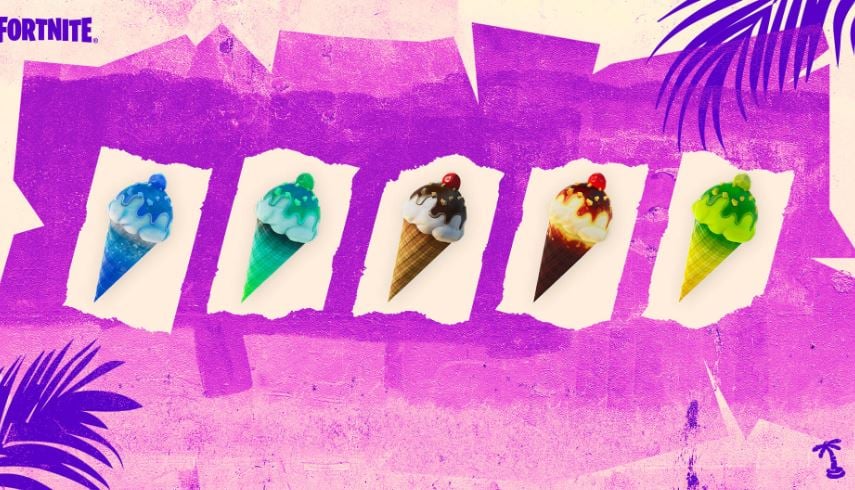 Normal IceCream Cone
Frozen IceCream Cone
Guzzling IceCream Cone
Spicy IceCream Cone
Lil'Whip's Special Serve
Players can complete quests in order to get their hands on free cosmetic rewards. Here are the rest of the patch notes for the Fortnite 2023 summer update along with some additional information.
Enjoy the summer atmosphere and earn rewards by completing The Quench Quests, Lagoon Party Quests, and Make an Entrance Quests.
THE QUENCH QUESTS
Progressively become available July 4 – July 7.
Everyone likes to enjoy a refreshing beverage, and Purradise Meowscles is no exception. Become his taste tester and concoct a tropical drink that he would enjoy while lazing the summer away.
Rewards for The Quench Quests:
LAGOON PARTY QUESTS
Progressively become available July 8 – July 11.
What's a party without good food? Find the perfect meal for the potluck and be the talk of the Island.
Rewards for Quench Quests:
MAKE AN ENTRANCE QUESTS
Progressively become available July 12 – July 16.
You could always pull up to the party like normal, or you can do it with style. Make an entrance that nobody will forget!
Rewards for Make an Entrance Quests:
The Nanners Wrap, Treezy Back Bling, and Blossom Drop Contrail.
You'll earn XP by completing individual Summer Escape Quests. For completing certain amounts of Summer Escape Quests, you'll unlock new items for your Locker:
Complete 14 Summer Escape Quests: Wild Fronds Back Bling
Complete 18 Summer Escape Quests: Bugsy Glider
Complete 24 Summer Escape Quests: Toasted Coconut Emote and the Lagoon Escape Loading Screen
The Wild Fronds Back Bling, Bugsy Glider, and Toasted Coconut Emote.
Dive into summer. Art by Afu Chan.
Completing these specific Summer Escape Quests will unlock even more items for your Locker:
Destroy 10 stones: Artifact Axe Pickaxe (Quest available July 11 at 9 AM ET)
Mantle within 30 seconds of busting through a door: Starry Sea Wrap (Quest available July 12 at 9 AM ET)
The Artifact Axe Pickaxe and Starry Sea Wrap.
Once each Summer Escape Quest becomes available, it'll remain available until the end of Summer Escape.
SUMMER SHOWDOWN ISLANDS
Looking for a wild time outside the party? Get active in the Summer Showdown islands! From July 4 at 9 AM ET until July 18 at 9 AM ET, you'll find the Summer Showdown row in Discover, featuring selected islands from the Summer Showdown callout. These creator-made islands are all about teamwork and taking down all who oppose you. If you want a more vigorous summer experience, these islands are for you!
FORTNITE CREW BENEFIT: NANNER BUDDY BACK BLING
Both Styles of the Nanner Buddy Back Bling.
All Fortnite Crew subscribers who log into Fortnite anytime during Summer Escape (July 4 at 9 AM ET to July 18 at 9 AM ET) will receive a bonus benefit: the Nanner Buddy Back Bling, inspired by a concept from community member D3nni. This Back Bling also has a Tropical Style.
All active Fortnite Crew subscribers will be granted the Nanner Buddy Back Bling immediately after logging in during Summer Escape.
NEW SUMMER OUTFITS
What's a party without people? During Summer Escape, new and returning summer Outfits will be coming to the Item Shop, including Opal and Chaos Explorer:
The new Opal and Chaos Explorer Outfits.
And speaking of summery style, the Purradise Meowscles Outfit will become available to unlock in the Battle Royale Chapter 4 Season 3 Battle Pass starting July 6 at 9 AM ET! Purradise Meowscles will remain available to unlock until the end of Chapter 4 Season 3.
The post Fortnite Summer Update Patch Notes – 4th July 2023 appeared first on Fortnite Insider.