Here are the early patch notes for Fortnite Chapter 4: OG which is the v27.00 (4.05) update releasing on 3 November 2023.
We're hours away from the launch of Fortnite Chapter 4: OG. With the new season set to be the last of the chapter, the current map will no longer be available.
We've known for a few weeks that we'll be returning to the Fortnite Chapter 1 Season 5 map. However, it was confirmed a few days ago when Epic Games confirmed it with the below image being posted on social media.
For the past two days, we've been getting teasers to provide players with a glimpse of what to expect from Fortnite: OG.
We know most if not all of the OG items will be returning to the game including hoverboards, ballers, the OG Pump and Scar, planes, and much more.
We'll be starting the season on the Chapter 1 Season 5 map, and it'll likely change each week until the season ends.
If leaks are correct, the season will end on December 3rd, making this a month-long season, the shortest we've ever had.
Although we knew what to expect from the Fortnite v27.00 (4.05) update from the teasers and trailers, Epic accidentally pushed the update live to Android users.
From the files and the screenshots taken by Android players before Epic fixed their mistakes, we know exactly what we can expect from the v27.00 4.05 Fortnite update, and we've created our own patch notes below.
Fortnite v27.00 (4.05) Update Patch Notes – 3 November 2023 (11/3/23)
OG Fortnite Map
As expected, we'll be moving away from the Chapter 4 map back and back to the Chapter 1 map. In the first week, we'll be playing on the season 5 map.
These are the locations that'll be on the week 1 map as well as an overview of the map:
Junk Junction
Haunted Hills
Pleasant Park
Loot Lake
Lazy Links
Risky Reels
Wailing Woods
Tomato Temple
Lonely Lodge
Retail Row
Dusty Divot
Salty Springs
Titled Towers
Greasy Grove
Snobby Shores
Flush Factory
Lucky Landing
Fatal Fields
Shifty Shafts
Salty Springs
Paradise Palms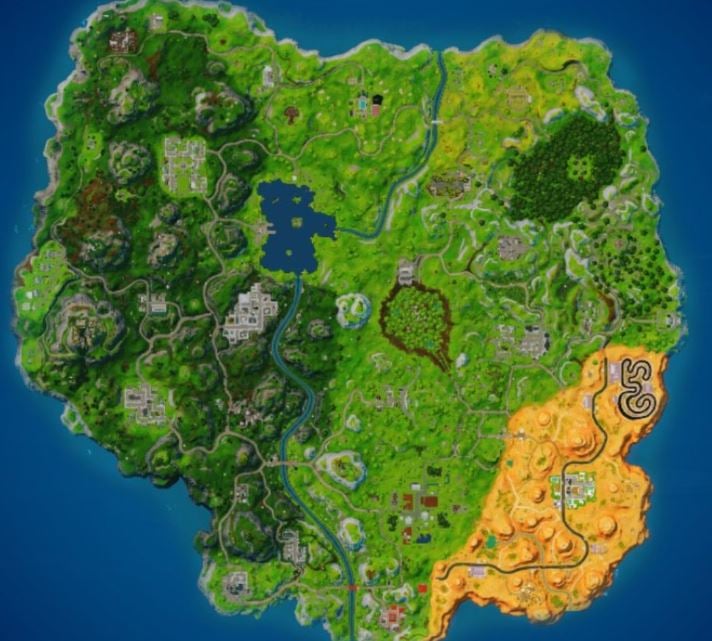 We've seen leaks of different versions of the map including the season 7 map with Polar Peak. That means, as leaks suggested, we'll be rotating through the Chapter 1 map, likely from season 5 to season X.
Returning Items
Again, we know most of the items that'll be returning thanks to the teasers Epic released along with the leaks we've seen over the past few days.
However, these are all items we know will be returning next season, even if it's not available in the first week of the season.
Bolt Action Sniper
Heavy Sniper
Suppressed Sniper
Standard Sniper
Drum Shotgun
Tactical Shotgun
Pump Shotgun (the Mark 2 Variant also exists)
Double-Barreled Shotgun
Burst Assault Rifle
Assault Rifle
Hunting Rifle
SCAR
LMG
Baller
Hoverboard
Planes
Karts
Shopping Carts
Supply Drops
All Traps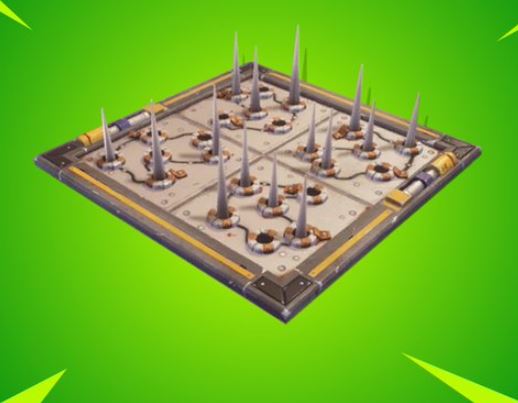 We also know sliding, sprinting, and mantling will remain in the game for Fortnite: OG. However, there's a chance that Augments won't be available in the new season.
Data miners did mention that the Mud Thermal, Splash Party, and Fire Armory augments were updated, but there aren't any new augments that have been added, nor have any of the other augments had any changes made.
OG Battle Pass
All of the Fortnite Chapter 4 v27.00 (4.05) OG Battle Pass skins are different skins merged together.
It seems as though there are only four Battle Pass skins in the Fortnite: OG Season which are listed below:
Renegade Lynx
Omegarok
Lil Split
Spectra Knight
Raven Team Leader (?)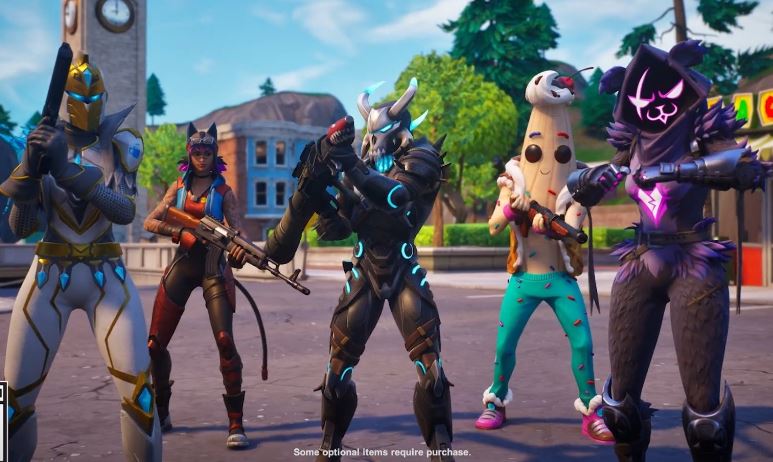 Although the Battle Pass has fewer cosmetics than previous seasons due to the length of the season, leaks suggest it'll be the normal price of 950 V-Bucks.
However, it looks like the OG Fortnite Battle Pass is available for free for Fortnite Crew subscribers, so now would be a good time to subscribe if that's the case.
What Else is New In Fortnite's 4.05 v27.00 New Update
Apart from the above information, we know Battle Stars will be returning, and a few other items not mentioned above.
We'll update this article with the full patch notes below once they've been released. Update: Official patch notes below for today's v27.11 (4.05) Fortnite update:
Go back in time Season by Season. Some of the unvaulted gear in each update will remain for that update, be in more than one update, or stay for the rest of Fortnite OG
Everything below is just part of what'll be unvaulted:
V27.00 – SEASON 5: THE RETURN OF TILTED, GREASY, AND RISKY
A POI introduced in Season 2, Tilted Towers stayed on the Island until Season 9.
Season 5, the Season where worlds collided… and players collided with All Terrain Karts! Take up weapons, Traps, and vehicles that were present in the original Season 5.
The Assault Rifle, Pump Shotgun, and Hunting Rifle are just some of the weapons unvaulted!
It's not just weapons that are back — things like the Damage Trap, Grappler, and Boogie Bomb are unvaulted too.
Thrill rides ahead: the Shopping Cart and All Terrain Kart are unvaulted! (Be careful before trying Shopping Cart stunts.)
---
V27.00 NOV 9 HOTFIX – SEASON 6: DARKNESS RISES IN LOOT LAKE
Darkness Rises again in Loot Lake! During the v27.00 Nov 9 hotfix, give opponents frights with weapons that were in Season 6. Also have delights with the Quadcrasher, Mounted Turret, and more!
Take up weapons that were in the loot pool in Season 6, including the Double Barrel Shotgun, Clinger, and Six Shooter. (Fittingly, the Six Shooter debuted in Season 6!)
Build defense! Attach a Chiller Trap to your Port-a-Fortress fort, then top it off with Mounted Turrets. (Have cold feet enough? The Chiller Trap and Mounted Turret won't be in Zero Build.)
Burst onto the scene with a Quadcrasher or Driftboard*.
*The Driftboard wasn't introduced until Season 7, but it'll first be available in Fortnite OG during the Season 6 update!
---
V27.10 NOV 16 HOTFIX – SEASONS 7 & 8: OF CHILL AND TREASURE
If you thought Chiller Traps were cold, Seasons 7 and 8 featured a snow biome and Frosty Flights. Pirate camps appeared on the Island following the pol-arrrr temperatures, and a range of swashbuckling gear was on the map to employ.
Start blasting from the past with weapons like the Flint-Knock Pistol, Minigun, and Quad Launcher! 
More things will be unvaulted (and dug up) in v27.10, including the Poison Dart Trap, Itemized Glider Redeploy, and Buried Treasure. Note: the Poison Dart Trap will not be in Zero Build.
Don't just move, attack! Strike with the X-4 Stormwing of Sgt. Winter fame, and the Pirate Cannon that lets you launch your teammates. 
---
V27.11 NOV 23 HOTFIX – SEASONS 9 & X: BLAST OFF!
Season 9 brought the future. Then in Season X, the world was destabilizing, fast! But don't worry, Seasons 9 and X had a ton of ways to play Fortnite that will return in the v27.11 Nov 23 hotfix.
Finish Fortnite OG strong with weapons like the Heavy Sniper Rifle, Proximity Grenade Launcher, Air Strike, and Junk Rift.
Defy natural order with items like the Storm Flip and Jetpack. (Fun fact: Season 9's "The Final Showdown" event had players using Jetpacks to witness a fight of epic proportions.)
Introduced in Season 8, players stayed rollin' with The Baller in Season 9.
---
RUN IT BACK WITH THE OG PASS AND OG ITEM SHOP
INTRODUCING THE OG PASS
A time-traveling, turbo-speed OG Season means the all-new… OG Pass! Packed with over 50 new in-game items, you can unlock all the cosmetic rewards in the OG Pass in just four weeks. The OG Pass is purchasable for 950 V-Bucks, and you can earn up to 1,000 V-Bucks by progressing in the OG Pass. Fortnite Crew subscriber? The OG Pass is included as part of the Fortnite Crew subscription.
COP NEW CLASSICS WITH THE OG SHOP
We've hit rewind on the Item Shop. Check out curated selections of classic, mashup, and fresh items in the OG Shop! These Outfits and accessories will only be available for a limited time, as a new curated selection will appear in the Shop daily at 7 PM ET.
The post Fortnite New Update Chapter 4: OG v27.00 (4.05) Patch Notes – November 3rd 2023 appeared first on Fortnite Insider.