Epic Games announced that the Fortnite servers will go down for scheduled downtime for maintenance today, 3 November 2023. However, that hasn't prevented people from wondering if Fortnite is down right now and when the servers will be back online.
Epic Games announced on October 27th, 2023 that we'll be returning to the Fortnite Chapter 1 map when the new season of the popular Battle Royale game mode launches.
Since then, players have been counting down the days. We've seen some of the largest streamers and content creators including the likes of Nickmercs announce that they'll be playing the new season when it drops.
We've had multiple teasers over the past two days which formed to create the keyart for Fortnite Chapter 4: OG. The name of the season means this isn't classed as season 5 of Chapter 4.
It also means the Chapter 4 map is gone as Chapter 5 will launch when Fortnite: OG ends on December 3rd, 2023.
Although the teasers have provided plenty of information regarding what we can expect in the new season of Fortnite, we have a lot more information thanks to a mistake by Epic Games.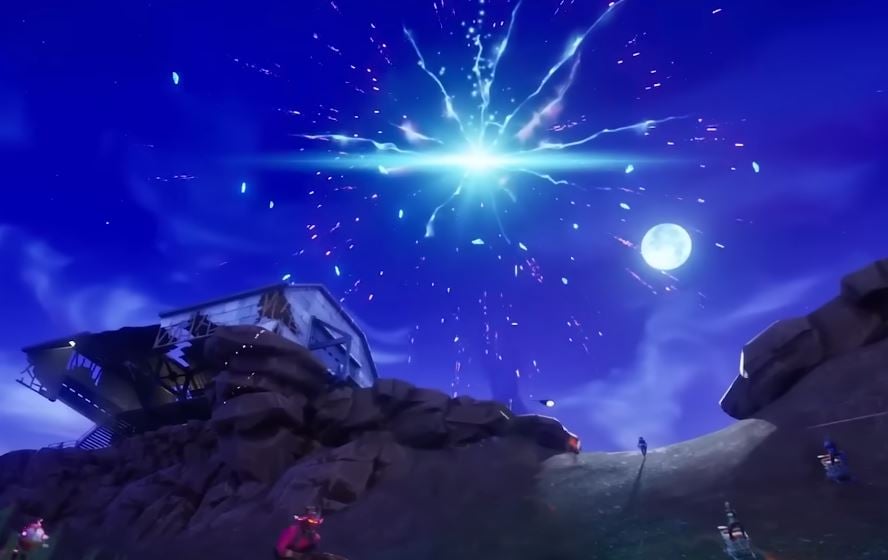 Earlier on, Epic Games accidentally pushed the Fortnite: OG update live on Android. Android players were able to download the 7 GB update and get into the lobby.
Although they weren't able to play any games, they were able to take screen grabs of the map from the lobby along with providing images of the Battle Pass for the new season.
Data miners managed to get into the new files and have provided everything we can expect in the new season. Whilst the Fortnite servers are down for scheduled maintenance on November 3rd, 2023, we thought we'd provide you with all the information we have on the new season.
Directly below, however, you can find all the information you need on the Fortnite servers being down on 3 November 2023 (11/3/23). Below that, you'll find everything you need to know about the new season of Fortnite; Chapter 4: OG.
Fortnite Schedule Server Downtime Announced For 3 November 2023
Before any major patch is released by Epic Games, they need to take the Fortnite servers down for scheduled maintenance. There's server downtime for Fortnite for the x.xx updates, and it's the same for new season releases.
However, the Fortnite server downtime duration is a lot longer when it's the release of a new season of Fortnite.
With Epic removing the Chapter 4 map and returning us to the Chapter 1 map, the Fortnite server downtime will likely be longer than what we've come to expect from new season releases.
Epic Games announced that the Fortnite servers will go down for scheduled maintenance on November 3rd, 2023, at 3 AM EST / 7 AM GMT / 8 AM CET.
Matchmaking will be disabled shortly beforehand which usually means it'll be disabled roughly thirty minutes before the Fortnite servers go down for scheduled maintenance.
Here's the official tweet from the Fortnite Status Twitter account:
As with all new seasons, Epic also stated that the new update file size will be larger than usual on some platforms.
We already know the Android update was 7 GB, and we'll update the article below with the file size of the download for each platform.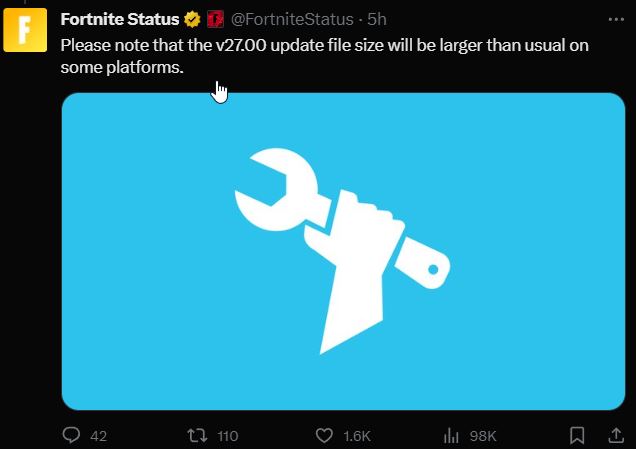 Fortnite Not Working 3 November 2023
Fortnite is not working as the servers are down for scheduled maintenance. It's likely when they are back online, there will be queue issues and possible server instability due to the number of players that will be trying to log in at the same time in order to play the OG map.
When Will The Fortnite Servers Be Back Up?
When Fortnite server downtime is announced, Epic Games will never state how long they will be down for, and that's the case for the release of Chapter 4: OG.
However, we can take a look at how long the servers have been down with the launch of previous updates and seasons.
Based on the past few releases of new seasons, we'd expect the Fortnite servers to be down for more than a few seasons.
If we had to guess, we'd assume that the Fortnite servers will be back up online from downtime on November 3rd, 2023 at roughly 8 AM EST / 12 PM GMT / 1 PM CET.
Again, this is just going off how long they've been down for the release of previous seasons. We will, however, update the below section as soon as they are back online.
Fortnite Status
We'll keep an eye on the server status and update this as often as we can.
Now that we've got the above out of the way and whilst you're waiting for the game to be playable, why not take a look at all the information we have on the season so far?
For those of you who didn't get to experience the Chapter 1 map, you're in for a treat. The season will launch with the Chapter 1 Season 5 map and will change each week.
Here's a look at the week 1 map along with the list of POIs that'll be available:
Junk Junction
Haunted Hills
Pleasant Park
Loot Lake
Lazy Links
Risky Reels
Wailing Woods
Tomato Temple
Lonely Lodge
Retail Row
Dusty Divot
Salty Springs
Titled Towers
Greasy Grove
Snobby Shores
Flush Factory
Lucky Landing
Fatal Fields
Shifty Shafts
Salty Springs
Paradise Palms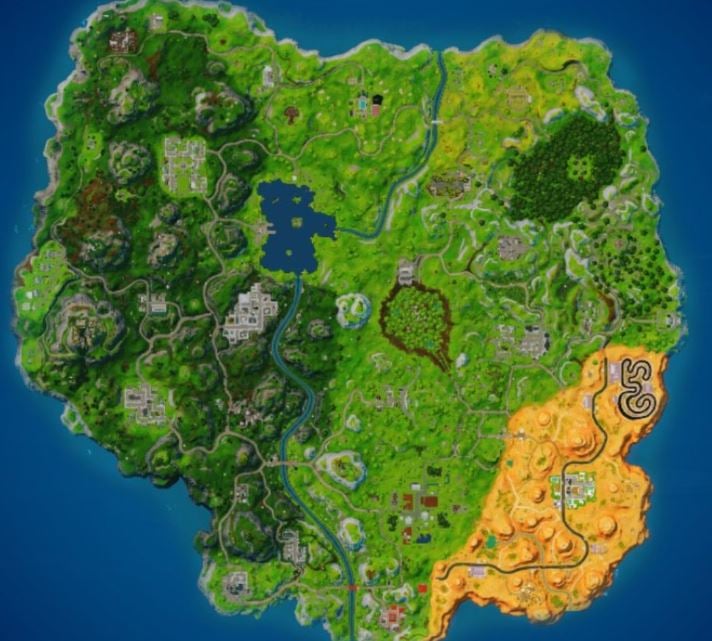 We should be rotating the map each week until we get to the Chapter 1 Season X map. Players can expect to see locations such as Happy Hamlet, Polar Peak, and other popular locations being added to the map as we progress through the season.
Along with the return of the map, we also know the loot pool for Chapter One will be returning. That means all of the current chapter and season loot pool will be removed, and we'll be going back to the OG loot pool.
Here are the items we know will be making a return:
Bolt Action Sniper
Heavy Sniper
Suppressed Sniper
Standard Sniper
Drum Shotgun
Tactical Shotgun
Pump Shotgun (the Mark 2 Variant also exists)
Double-Barreled Shotgun
Burst Assault Rifle
Assault Rifle
Hunting Rifle
SCAR
LMG
Baller
Hoverboard
Planes
Karts
Shopping Carts
Supply Drops
All Traps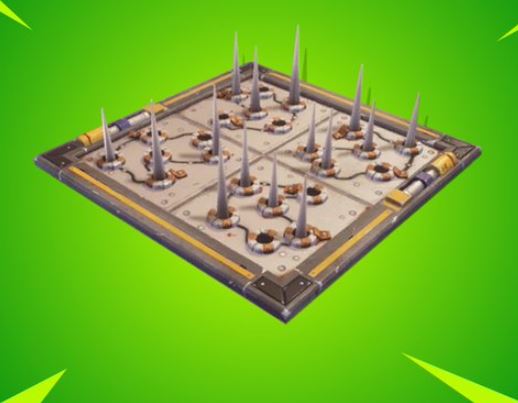 Thanks to data miner iFireMonkey, we know which items will be returning from week 1 to week 4:
Week 1:
– Stink Bombs
– Boogie Bombs
– Bush
– Chug Jug
– Port-A-Fort
– Grappler
Week 2:
– Tactical Shotgun
– Port-A-Fortress
– Dynamite
– Driftboards
– Quadcrashers
– Double-Barrel Shotgun
– Heavy Assault Rifle
– Shockwave Grenades
– Clinger
– Grapple Glove
Week 3:
– Boom Bow
– Pirate Cannon
– Minigun
– Buried Treasure
– Balloons
– X-4 Stormwing
– Kinetic Blade
Week 4:
– Hot Spot Supply Drone
– Baller
– Air Strike
– Jetpack
– Infantry Rifle
We also have some stats for the Pump and Hunting Rifle below.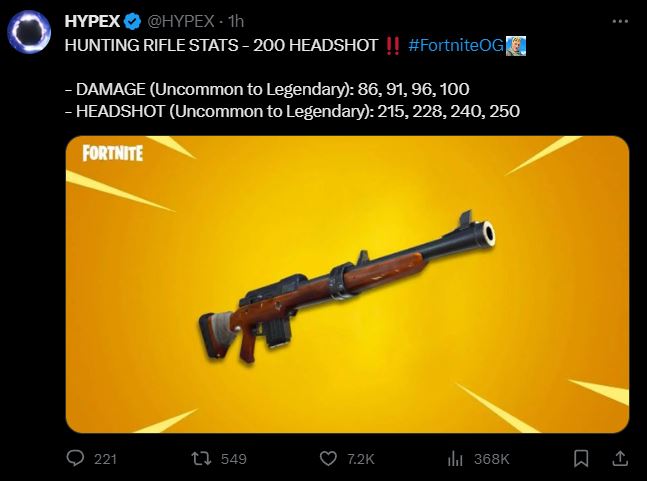 According to iFireMoney, the B.R.U.T.E will also be making a return as there are files that have been added that mention it.
It was commonly referred to as "the mech" and was a ground vehicle that was added in Season 10 (X).
It's a giant mech suit that can be mounted by two players at once. It had features including a dash, stomp, and super jump attack.
It also had the ability to fire a shotgun that fires 5 pellets and a missile attack all whilst also having a forefield to shield players. It was probably one of the most talked about additions in Fortnite history.
Many complained they were too overpowered and ruined the entire experience of Fortnite. More novice players loved the mech due to the fact that it made it easier for them to win games.
It was vaulted with the release of Chapter 2 and has never made its way back into the game for obvious reasons.
If it does indeed return, let's hope Epic has nerfed it enough so it doesn't ruin the OG experience for players, and it's likely that will be the case. It seems unlikely it will be available from the first week, so expect it to come in the final week of the season if it is added back.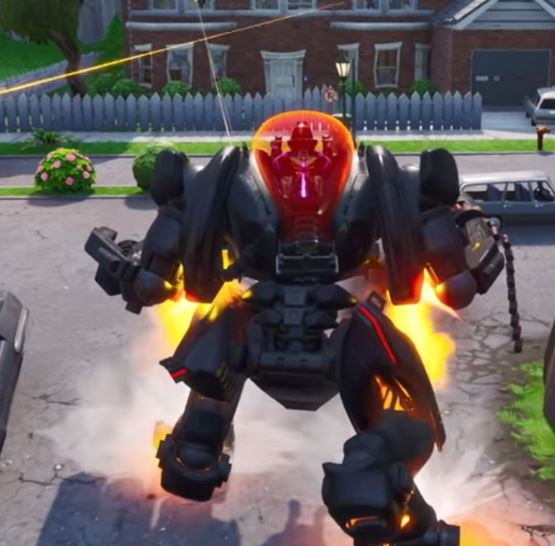 Epic has confirmed with the gameplay trailer that a few fan-favorite movement mechanics will remain in the game. Sliding, Spriting, and Mantling will remain in the game.
However, there's no news in regards to whether Augments will remain. Three augments will receive an update, but none of the other augments.
There's also nothing showcasing augments in the gameplay trailer, so we'll have to wait until the Fortnite servers are back online from maintenance downtime on 3 November 2023 to know for certain.
Secret Battle Stars will be coming back to the game, much to the delight of many of the OG players. Secret Battle Stars are Floating Battle Star Icons that were added to the map each week.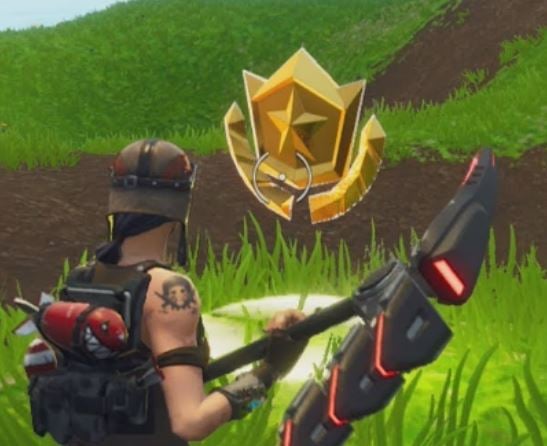 They could be found from hints that were in the weekly loading screens. For example, a loading screen might have coordinates of the Battle Star somewhere on the loading screen, and players would have to find it to find the Secret Battle Stars.
Once you find the hint, you can find it on the map and collect it in order to get ten Battle Stars.
A new season always means a new Battle Pass, and Fortnite Chapter 4: OG is no different. We've seen some of the skins in the gameplay trailer that Epic released.
It looks like there will only be four or five skins in this season's Battle Pass due to the fact that the season is only a month long. However, it appears as though there will be plenty of edit styles for the skins.
Here are the skins that'll be available:
Renegade Lynx
Omegarok
Lil Split
Spectra Knight
Raven Team Leader (?)
And here's what they look like:
There's no confirmation on the price, but leaks suggest that it's still going to cost players 950 V-Bucks to get the new Battle Pass.
With that said, there's also information that points towards the Battle Pass being free for those that get Fortnite Crew but this has not been confirmed nor is it official information.
Reboot Vans will still be in the game but they will likely function as they did when they were first added into the game.
That means instead of rifting back in once a teammate has got you back into the game from a Reboot Van, you'll likely just spawn on top of the Van.
We don't have much else to cover apart from the fact that there will be a Stranger Things collaboration in the new season with Eleven being added as a skin.
Here's the leaked skin and edit style thanks to Hypex: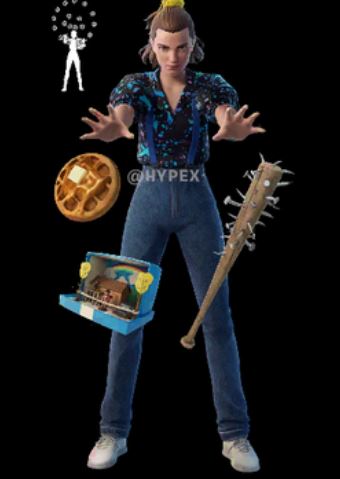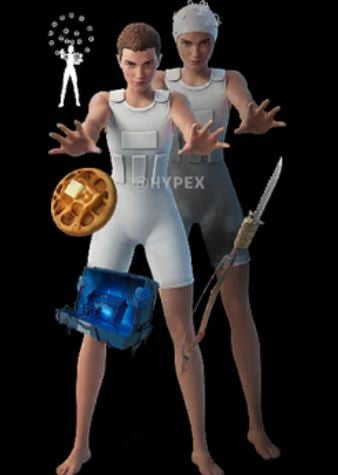 That's all we have to cover in this article. Be sure to check back when the Fortnite servers are finally back online to check out all the coverage we have on the season including the confirmed loot pool, challenge guides, and anything else we think will need to be covered.
Head to our Fortnite news page here.
The post Is Fortnite Down Right Now? Server Downtime & When Will They Be Back Up Online – 3 November 2023 appeared first on Fortnite Insider.