The Fortnite chapter 3 season 4 map has been revealed. There are four major shake-ups to the season three map including changes to The Joneses' location.
One of the complaints players have had with Fortnite for the past couple of years has been the lack of map changes, especially when a new season launches.
In chapter one, not only did we get a handful of major map changes with the launch of a new season of Fortnite, Epic also pushed out smaller map changes in the content or patch updates throughout the season.
With the launch of season three on June 4th, players were expecting some substantial map changes, but there weren't as many as we would have expected.
Now that Fortnite chapter 3 season 4 is just a couple of hours away from going live, data miners have leaked the map for the new season, and we do have some larger changes on the east side of the map.
Fortnite Season 4 Chapter 3 Map
During downtime, data miners look through the new downloadable files and will leak anything that they find interesting. At the start of each season, the map for the new season is leaked and the release of Fortnite chapter 3 season 4 is no different.
Here's a look at the map for season four: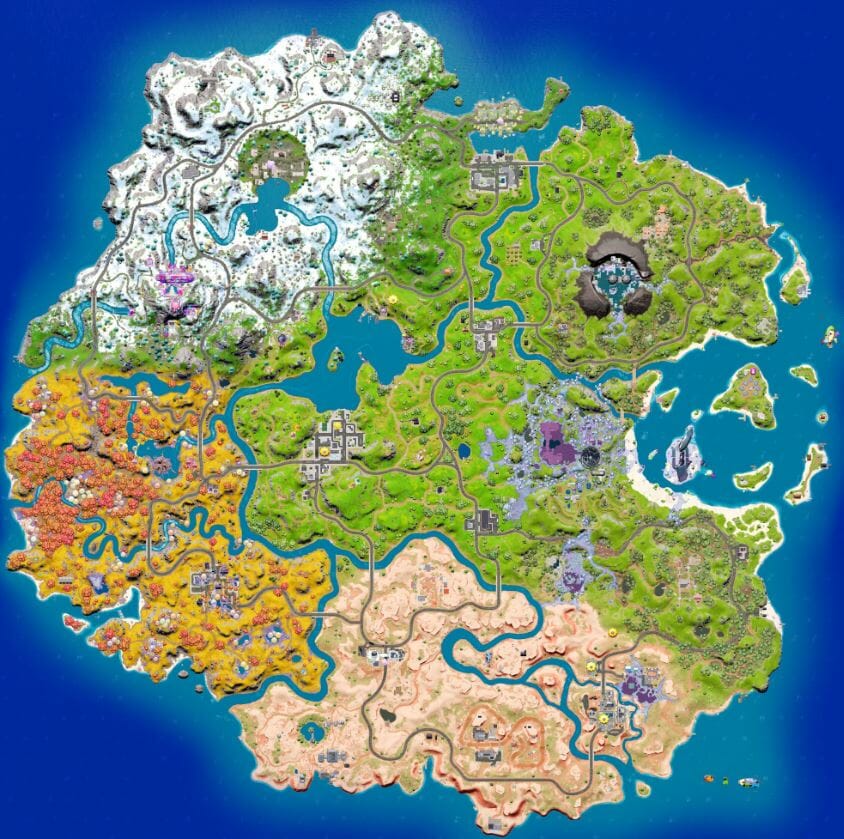 Sometimes, it can be hard to tell what exactly has changed from images like the one above. The only noticeable map change appears to be chrome spreading around the east side of the map.
Thankfully, we have another image that provides us with the names of new POIs on the map along as the locations that have had a name change after being redesigned.
Here are four POIs that have been highlighted:
Lustrous Lagoon
Herald's Sanctum
Shimmering Shine
Fort Jonesy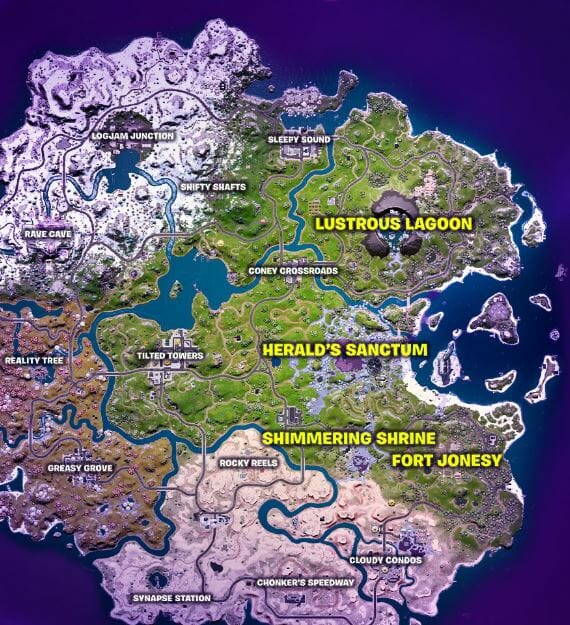 There are other changes to the Fortnite map in season 4 including changes to Condo Canyon which is now called Cloudy Condos. We'll need to compare the map to the previous season, but it looks like only the ease side of the map has changed.
The post Fortnite Chapter 3 Season 4 Map Revealed – All New Changes and POIs appeared first on Fortnite Insider.