With Christmas fast approaching, players are wondering when the Christmas Fortnite Winterfest event for 2022 will start. Here's all the information we have so far including a start date and some leaks from data miners.
It's been a week since the release of Fortnite chapter 4 season 1. For the most part, the new chapter and season have been well received by the Fortnite player base.
Now that players are accustomed to everything the new season offers, including the new perks system and the set of new items, everyone is turning their attention to the Fortnite 2022 Christmas event.
The first Christmas event Epic Games released for Fortnite Battle Royale was called "14 days of Fortnite". Since then, we've had Winterfest events along with an Operation Snowdown event.
Players were unhappy with the Operation Snowdown event which followed on from the first Winterfest event for a couple of reasons. The biggest issue with the fact that there was no cabin for players to enter to open a daily reward.
Instead, players could only claim free Christmas-themed cosmetic rewards by completing challenges whereas Winterfest events allowed players to unlock free cosmetics each day by opening a present in a cabin along with the challenge cosmetic rewards.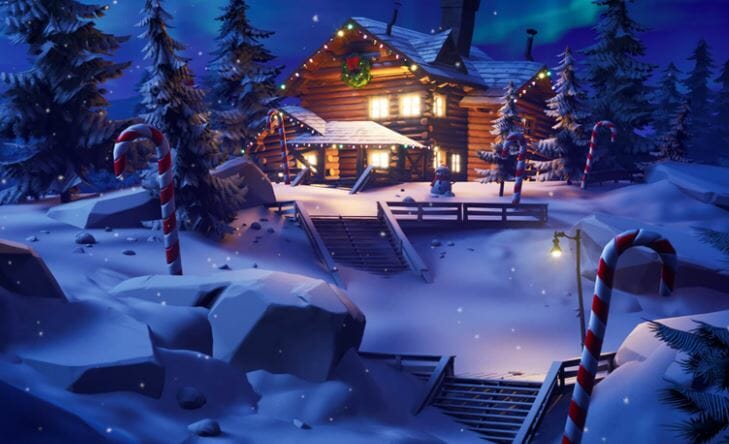 Thankfully, Epic Games re-introduced the Winterfest event last year which went down extremely well with the community. In fact, the servers could handle the sheer amount of players looking to log in to open their present at 10 AM ET / 3 PM ET each day.
Every time a new present was available, the servers would go down for at least half an hour. That led to Epic changing the time that a new present became available to open.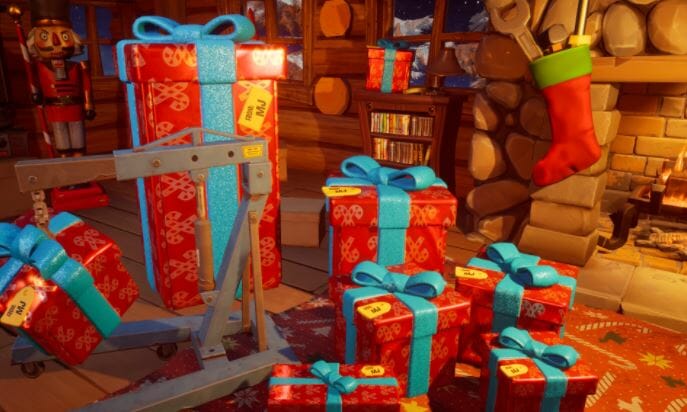 Each event has provided players with the chance to get their hands on event-exclusive rewards including two free Christmas-themed Fortnite skins. Last year, Players could grab the Krisabelle and Frozen Peely skins.
Other cosmetics that were available included two pickaxes, two wraps, a glider, contrail, emote, lobby track, loading screen, emoticon, spray, and a banner. Here's a look at the two skins for last year if you didn't participate in the event:
When last year's announcement to introduce the Christmas event was made, it also announced the Spider-Man: No Way Home collaboration which included the release of another Spider-Man skin along with an MJ outfit.
This year, we could see the My Hero Academia collaboration announced based on the leaks we've seen on a start date from leakers. However, we'll only know when the new update releases before Epic Games employees go on holiday until the new year.
Although we'll have to wait until the new update to find out exactly what's in store for us in the Winterfest Fortnite 2022 event, we do have a rough start date along with some leaks about the event including an early look at the cabin.
When Does Fortnite Winterfest 2022 Start?
Last year, Epic Games released an update for the Christmas event on a Tuesday but were tight-lipped about when it would start. Two days later on Thursday, they announced that the event would start in a couple of hours.
Based on the release schedule for updates, it's safe to assume the next update will release on Tuesday, 13th December 2022. However, we'd expect The 2022 Winterfest Fortnite event to start on Thursday, 15th December 2022.
Again, this hasn't been confirmed yet. The 2020 event started on a Friday, so we could see Winterfest begin on the exact same date as last year. We won't have a confirmed release date until Epic Games release a blog post unless there's information data miners leak from the next patch release.
Die Hard x Fortnite Collaboration
The Chief Creative Officer at Epic Games, Donald Mustard, likes to post teasers for upcoming collaborations and features that'll arrive in Fortnite in the future.
He recently posted a Die Hard movie gift he received from a friend. There were already rumors a Die Hard x Fortnite collaboration would be coming for the 2022 Christmas event which seems all but confirmed at this point.
Winterfest Fortnite 2022 Christmas Event Leaks
Data miners have already leaked a handful of the changes, features and cosmetics we can expect to see during Fortnite Winterfest 2022. Each year, we'll see Christmas-themed items unvaulted for the duration of the Christmas event.
This year is no different with the snowball launcher, sneaky snowman, presents, and chiller grenades returning from the vault.
Planes were supposed to return to Fortnite in chapter 3 season 4. However, the return of planes was delayed. Based on the leaks, it looks like they'll be making a return for Fortnite Winterfest 2022.
We also know the Winterfest Cabin will be turning along with the daily presents. The inside of the cabin has also been leaked which you can take a look at below:
Free Guffy Mammoth Fortnite Skin & Other Winterfest 2022 Cosmetics
We already know what some of the free Winterfest 2022 cosmetic present rewards will be including one of the free skins. The Guffy Mammoth skin will be available for free from the present which you can take a look at below:
Here are the other cosmetics that have been leaked along with an image for each:
Lil' Prancer Emote:
Ribbon Trail Contrail:
Wintry Whirligig Glider:
That's everything we have on the Fortnite Winterfest 2022 Christmas event. We should have more information on the event on Tuesday when the next update releases. Be sure to check back on update day for all the latest news, leaks, and more.
The post When is Fortnite Winterfest 2022 Christmas Event? Start Date & Leaked Free Guffy Mammoth Skins appeared first on Fortnite Insider.