Epic Games have announced the previously leaked Patrick Mahomes Fortnite skin. Here's everything you need to know including the release date.
Every season, we can expect Epic Games to release at least five different collaborations. We've already had the Indiana Jones and Darth Vader Fortnite skins, both of which are included in the chapter 3 season 3 Battle Pass.
Last week, the Dragon Ball x Fortnite collaboration finally went live. It was probably the most leaked collaboration so far, but it's gone down well with the player base with many praising the map changes and mythic items.
There's just under a month to go until the current season of Fortnite ends and chapter 3 season 4 begins. A couple of collaborations have been leaked including Destiny x Fortnite. However, the newly announced collaboration is another NFL collaboration.
Earlier today, Epic Games announced that Patrick Mahomes would be coming to the Fortnite universe. Here's all the information you need to know about Patrick Mahomes x Fortnite including the release date for the skin and details for the upcoming cup.
Fortnite Patrick Mahomes Skin
All Fortnite collaborations include the release of cosmetics in the item shop and it's no different for the Patrick Mahomes Icon Series. Here are the cosmetics that will be released:
Gridiron Gladiator Back Bling: Suit up for battle. (Included with the Patrick Mahomes Outfit.)
Snap Axes Pickaxe: Expertly handled. (Glows red when swung!)
Endzone Elite Wrap: Gear for your gear.
Showtime Emote: Back in the game.
There's also a Mahomes Saucy Style outfit that'll be available including The Good Stuff Back Bling. Here's a look at the Patrick Mahomes Fortnite skin along with the rest of the cosmetics: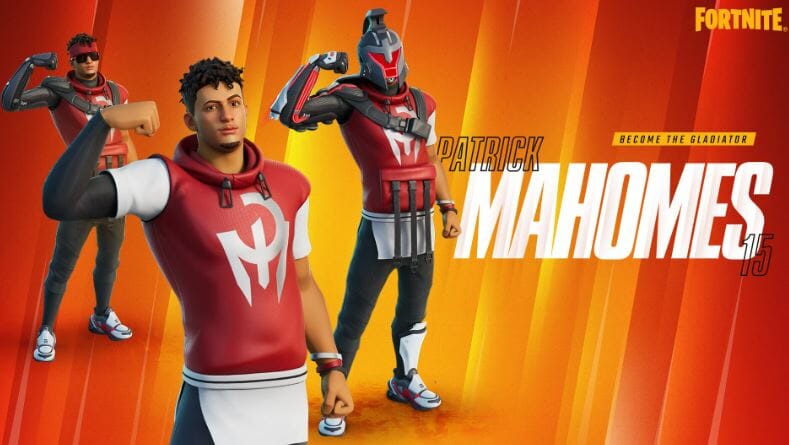 And here's a look at the Showtime Emote:
The release date for Patrick Mahomes x Fortnite is Tuesday, August 23rd, 2022. There will also be a cup that'll take place on the same day the skin releases.
Players will be able to participate in order to earn the Patrick Mahomes Fortnite skin for free as well as the Gridiron Gladiator Back Bling. Any player that earns at least eight points will unlock the Secret Sauce Emoticon for free.
The post Patrick Mahomes Fortnite Skin Release Date Announced appeared first on Fortnite Insider.