Here are all of the Discord x Fortnite challenges along with the three rewards available to unlock.
Epic Games have always provided the Fortnite player base with different ways to earn free cosmetics. Most recently, players were able to unlock three Birthday-themed cosmetics by completing challenges.
This morning, Epic announced the return of the Fortnite Discord quests, offering new Chapter 3 Season 4 cosmetic rewards by completing the Discord quests.
Players have until October 2, 2022, to complete the Discord Fortnite quests and earn the three available cosmetic rewards.
Here's everything you need to know about the Fortnite x Discord collaboration including the list of challenges, rewards, how to participate, and more.
What Are Fortnite Discord Quests and How to Complete Them
The Fortnite Discord quests are limited-time challenges that players receive through any of the official Fortnite Discord servers.
These challenges can then be completed in-game. The first set of quests was introduced two seasons ago and as expected, it helped drive a large number of new members in the Fortnite Discord channels.
In order to participate and view the Fortnite Discord quests, you'll need to do the following:
Select and join one of the official Fortnite Discord servers we've listed further down in this article.
Find and select the Paradise Discord quest channel.
Read the announcements on the channel
Click the "Start" button
Link your Epic Games account with Discord if you haven't done so already. You'll receive a bot message for this.
Click the link and follow the instructions.
Complete the quest and unlock the next quest.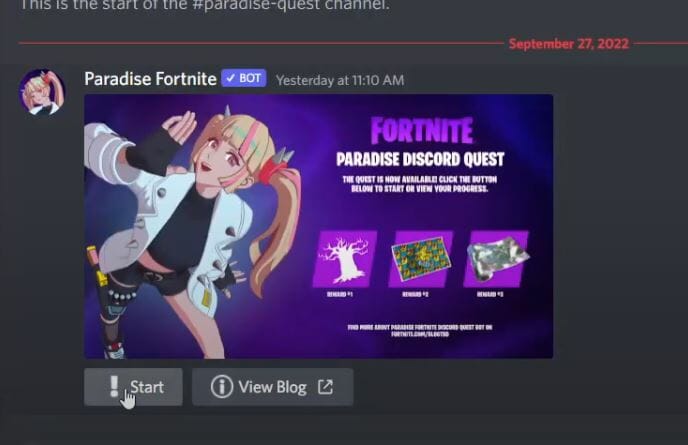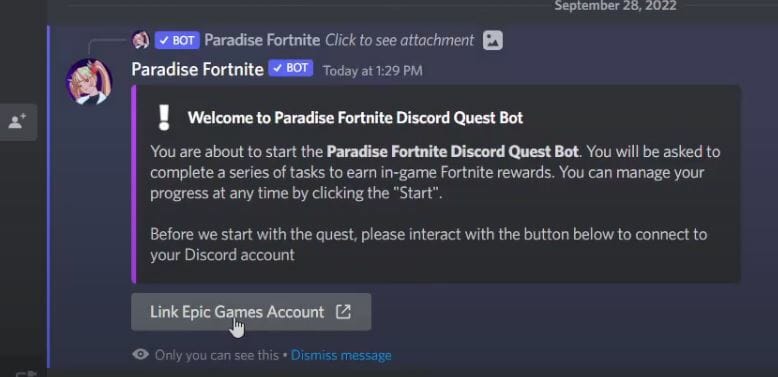 Fortnite Paradise Official Discord Server List
Here's a list of all the official Fortnite Discord servers that you can join to complete the Paradise quests:
All Fortnite Paradise Discord Quest Cosmetic Rewards
There are a total of three free cosmetic rewards players can obtain by completing the quests. Players can unlock a banner by completing one quest, a loading screen for completing three, and a wrap for completing six.
Here are the names and a look at the Fortnite x Discord rewards:
After completing one task: Chrome-ified Reality Tree Banner Icon
After completing three tasks: Banana Flip Loading Screen
After completing six tasks: Chrome Flow Wrap
The post How to Complete All Fortnite x Discord Quests & Rewards – Official Discord Server appeared first on Fortnite Insider.