Epic Games have announced the Reboot Rally Fortnite event that'll provide players with the chance to get free cosmetic rewards including a wrap and pickaxe.
Epic Games have always provided the Fortnite player base with several ways to earn free cosmetics in-game. Every year during the Christmas Winterfest event, players can unlock a handful of rewards.
Last year, players could earn free rewards by completing the Winterfest challenges as well as opening a present each day in the Winterfest Cabin.
These cosmetics weren't just your basic loading screen and emoticon with Epic providing two free skins along with wraps, pickaxes, emotes, gliders, and more.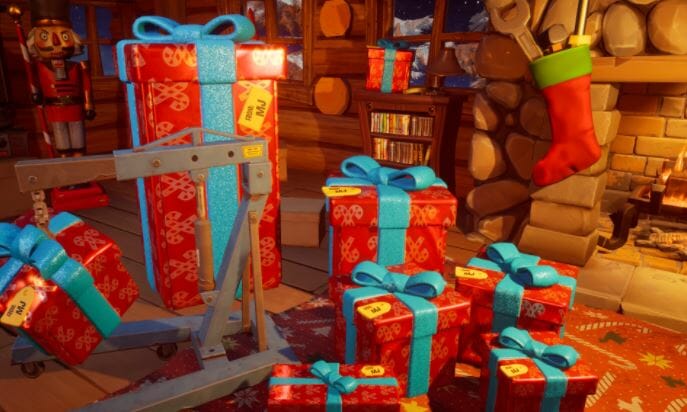 We'll likely see the Winterfest event return this year with the previous one becoming a huge success. In fact, the event was so popular that at the set time a new present was available in the cabin, but the servers would go down due to the sheer amount of players looking to log in and get their free cosmetics.
We've also had the chance to get rewards through community challenges, collaborations, tournaments, and more. Reboot a Friend has also given players the chance to unlock cosmetics including wraps and pickaxes.
In the v22.00 update that went live yesterday, data miners leaked an upcoming event similar to refer a friend that'll unlock free rewards including a glider, pickaxe, and a wrap.
Epic Games have now confirmed that the event, Reboot Rally, is now live. Here's everything you need to know about Reboot Rally in Fortnite including all the rewards that are available, how to sign up, and more.
How to Sign Up For Fortnite Reboot Rally
For the reboot a friend program, players needed to sign up on a website, but that isn't the case with Reboot Rally. In order to get started, players can open their friend's tab in the lobby sidebar.
You'll be able to see the Reboot Rally section from there and if you're an active player, you'll see returning and new friends you can party up with in order to complete the Reboot Rally quests.
To simplify the steps, here's how to get started:
Log in to Fortnite
Click the menu button that's located at the top left side of the lobby
Navigate to friends
Click the Reboot Rally banner
Click view quests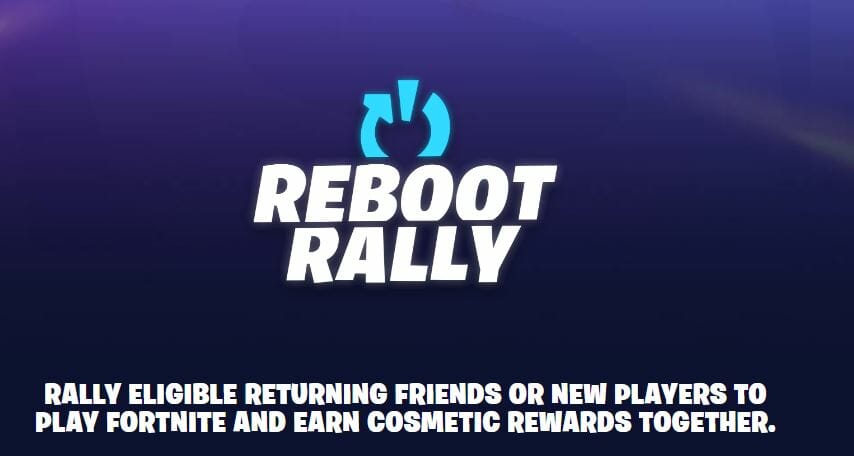 How to Get All Reboot Rally Fortnite Rewards
There is a total of four different cosmetics players can unlock. In order to obtain these rewards, players need to complete quests that will reward them with points.
These points will then earn you the following rewards:
50 points: Barb-B-Q Emoticon
100 points: Freshly Forged Wrap
150 points: Red Hot Revenge Pickaxe
200 points: Fiery Descent Glider
Here's a look at the Reboot Rally rewards:
All Reboot Rally Fortnite Challenges Quests
Here's a list of all the Reboot Rally Fortnite challenges:
Complete 1 daily quest with a friend
Complete 3 daily quest with a friend
Complete 6 daily quest with a friend
Rally your friends from their profile or the Reboot Rally event panel
Earn experience with a friend in Battle Royale, Zero Build, Team Rumble, and Creator-made experiences.
The above two challenges are staged quests, so we don't know what the other stages are. The first three challenges will provide you with 10, 20, and 30 points. The Rally your friend's challenge will give you 50 points, and they earn experience will provide 5 points per stage.
The post Fortnite Reboot Rally: How to Get All Free Rewards, Challenges, How to Sign Up appeared first on Fortnite Insider.