It looks like we'll be going to the "Old OG" Fortnite map with the return of the Chapter 1 Season 5 map in Chapter 4 Season 5.
We're just over a week away from a new season of Fortnite Battle Royale; chapter 4 season 5. There have been rumors regarding the new season of Fortnite for some time now.
Originally, popular Fortnite leakers who were getting information from an Epic Games insider stated that chapter 4 season 5 would be a month long, and would be a Lego-themed season.
However, a few weeks ago, this was confirmed to be axed. That said, the rumor of the new season only being a month-long season still remained.
Recently, leakers stated that we could be going back to the old OG Fortnite map, more specifically, Chapter 1 Season 5, which would again only be for a month before the launch of Chapter 5 at the start of December.
On October 10th, popular leaker Hypex tweeted some information regarding the old OG Fortnite map returning. Here's everything we know about the leaks.
Old OG Fortnite Chapter 1 Season 5 Map Return Leaks
Hypex stated that due to the time machine on the current map breaking, we'll cycle through the chapter 1 seasons including season 5 with the return of the old OG Fortnite map.
Alongside constant map changes, we'll be getting loot pool changes with all the OG items making a return. Although the information was from a reliable source, many were still skeptical.
However, we've seen teasers being added by Epic Games over the past week. Some creators received a disc with the outline of the Fortnite Chapter 1 Season 5 map as seen below.
Fortnite then changed their Twitter location to "July 12th, 2018". At the same time, propers from Frenzy Fields began appearing on the current map.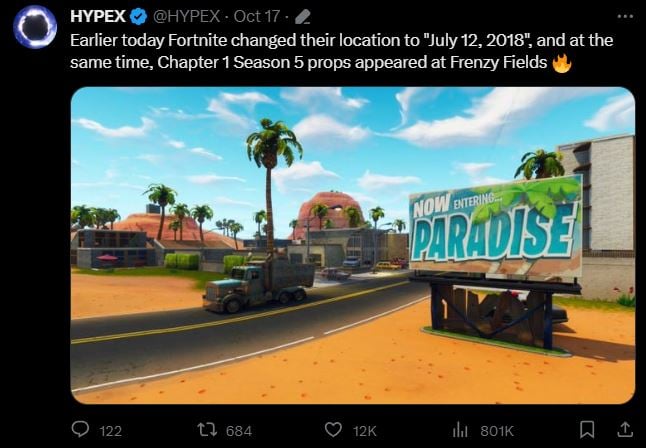 Epic then sent certain content creators the Fortnite chapter 1 OST lobby music, another hint that the leaks are correct.
Fortnite sent this audio to content creators as a part of the Season 5 teasers, and it's the Chapter 1 Lobby OST 🔥 pic.twitter.com/BR6WDTHPsu

— HYPEX (@HYPEX) October 23, 2023
Yesterday, Epic added the Fortnite Chapter 1 sky as a billboard in-game to further confirm that next season, we'll be going back to the OG Fortnite Chapter 1 map.
When Is the Fortnite Old OG Chapter 1 Season 5 Map Returning?
With the current season of Fortnite expected to end on November 3rd, we'd expect Fortnite Chapter 4 Season 5 to launch with the Chapter 1 Season 5 map on either November 3rd or November 4th 2023.
However, we'll likely have full confirmation either tomorrow or on Monday, 30th October.
Rewind Teaser Image
Although it hasn't officially been released, according to Hypex, this is the Season 5 Chapter 1 Map teaser image: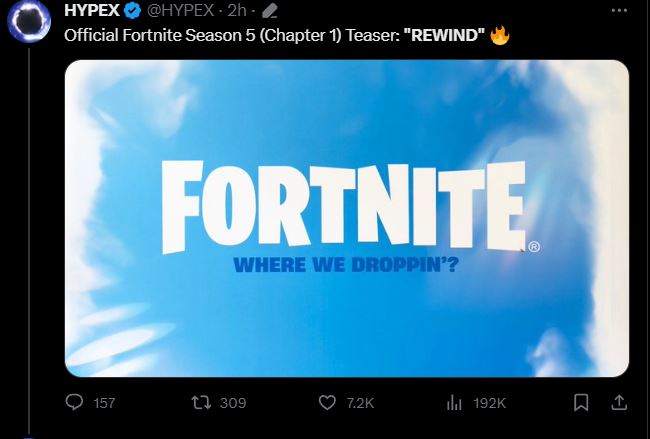 The post Fortnite Chapter 1 Season 5 OG Old Map Return Date – Rewind Teaser Image appeared first on Fortnite Insider.