A new Fortnitemares challenge tasks players with ringing a doorbell until it breaks to get a treat. Here are the chapter 3 season 4 locations where you can find doorbells in Fortnite.
Since the start of the Fortnitemares 2022 Halloween event, there have been two new quests released each day. Each provides players with 15,000 season four XP once completed.
Each one will also bring players one step closer to unlocking the next cosmetic reward. This year, there's a glider, back bling, and pickaxe available to unlock.
The glider is already available to those that complete five of the Fortnitemares quest. The next one will be available on tomorrow when the next two quests are available with the back bling being available to players that complete thirteen challenges.
The final cosmetic, the Unmaker Pickaxe, will be available after completing 25 challenges. That means players will need to wait a week before it's available to unlock.
One of the new quests requires players to ring a doorbell until it breaks to get a treat. Below, you'll find a quick guide on how to complete this challenge as quickly as possible.
Where to find Doorbells in Fortnite chapter 3 season 4
There are four locations where this challenge can be completed, which we've listed below:
Greasy Grove
West of Herald's Sanctum
Chrome Crossroads
Shiny Sound.
Here's a map of the locations:
We'd highly recommend dropping at Greasy Grove due to the fact that you can find more haunted household furniture which will help to complete the other quest that was released today.
If you do drop at Greasy Grove, head to the middle blue house. Outside the front door, you'll find a doorbell: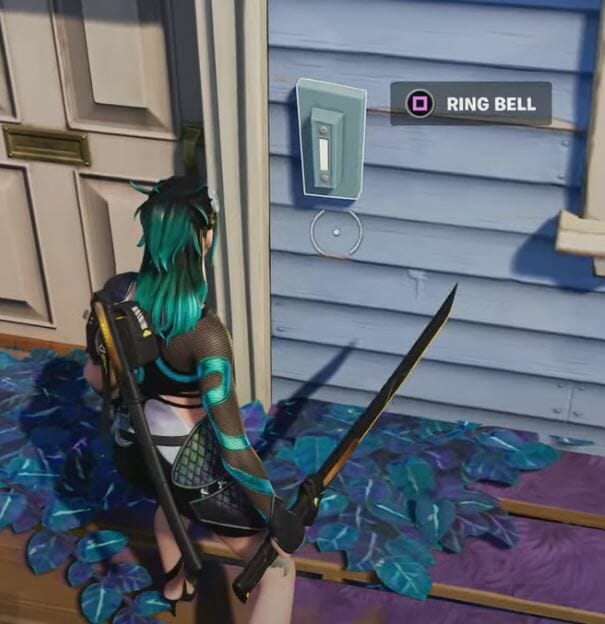 How to Ring Doorbell Until it Breaks to Get a Treat
In order to break a doorbell until it breaks to get a treat in Fortnite, players need to keep ringing it by using the interact button. Eventually, the doorbell will break and you'll get candy from it.
You only need to do this once to complete the challenge.
The post How to Ring a Doorbell Until it Breaks to Get a Treat Fortnite Locations appeared first on Fortnite Insider.