The Fortnite Spring Breakout 2023 event has been announced by Epic Games. Here's everything you need to know about the event including all the quests, rewards, and more.
Each year, Epic Games release holiday-themed events. The most popular event of the year is the Christmas Winterfest event thanks to the number of free cosmetics that are available.
The Halloween, summer, and spring events aren't anywhere near as popular but they still provide new content, quests, and rewards for players.
Last night, Epic announced that the first major update of the season, v24.10, would be released today. The update is now available and the servers are back online.
The patch includes the Spring Breakout 2023 Fortnite event. Here's the lowdown on this year's event including all the rewards that are available to unlock.
Spring Breakout Fortnite 2023 Quests
Here's the list of all the Spring Breakout quests:
Daily Spring Breakout Quests
Visit cherry blossom tree displays (3)
Collect a Golden Egg (1)
Hire a Specialist Character (1)
Collect an egg within 4 seconds after being laid (1)
Deal damage to players with a Specialist Character hired (50)
Swim in the hot springs at Steamy Springs (1)
Deal damage to players while under the effects of a Hop Egg (100)
Give a hired Specialist Character a command (1)
Place Chicken Crossing signs at Frenzy Fields or Kenjutsu Crossing (4)
Talk to Cluck (1)
Deal damage to structures with the Egg Launcher (1000)
Consume two Heal Eggs and a piece of meat in a single match (2)
Jump multiple times in a single match (50)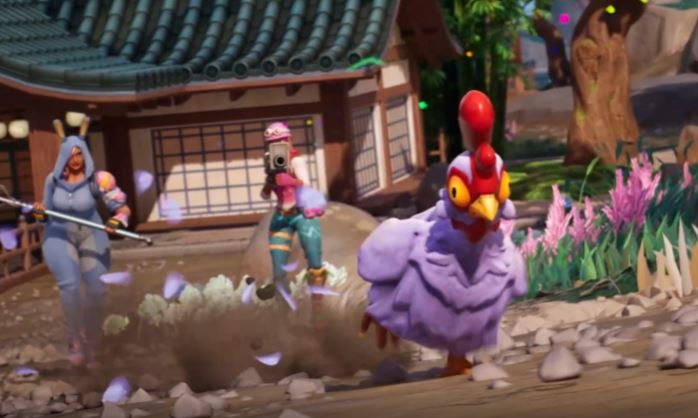 Spring Breakout
Consume food (10)
Deal damage with shotguns (500)
Eliminate opponents with sniper rifles (3)
Catch fish (2)
Travel distance while swimming (300)
Search Chests (15)
Fortnite Spring Breakout 2023 Rewards
There are a number of different cosmetic rewards that are available including a Back Bling and spray. Here's how to unlock the daily quest rewards:
Day 1 Quest's Reward: Bloomback Sack Back Bling 
Day 7 Quest's Reward: Shell Smash Spray
Day 9 Quest's Reward: The Works Loading Screen
Day 12 Quest's Reward: A Spring Breakout Banner Icon
And this is what the rewards look like:
There are more rewards too. If you complete 12 Spring Breakout quests, you'll unlock the Nannerbloom Hammer Pickaxe. Complete 22 quests and you'll unlock the Fresh Flyer Glider.
The post Fortnite Spring Breakout 2023 All Rewards and Quests appeared first on Fortnite Insider.