Epic Games have finally announced the final update of Fortnite chapter 3 season 3, 21.51. Here is everything you need to know about the update from the server maintenance downtime to the download size.
It's been just over three months since Epic Games released Fortnite chapter 3 season 3. It didn't seem to get off to as good of a start in comparison to season two. However, there was more buzz around season two with the building mechanic being removed from the main game mode for two weeks.
This season is also longer than the previous but we did get a major update that made the season feel like a new one. When the Dragon Ball x Fortnite collaboration went live with challenges, two mythic items, and map changes, many felt it was what the season needed.
That hasn't stopped players from wanting the season to end as is the case in the final couple of weeks for every season of Fortnite. However, we have one final patch update before then.
Epic Games have announced the next and final update of the season, 21.51, which is scheduled to go live today (7 September 2022). Here is everything you need to know about the 21.51 Fortnite update.
Fortnite Server Maintenance Downtime Time – September 7, 2022
The release of a new patch update in Fortnite results in the servers being taken down for scheduled maintenance and today's 21.51 patch is no different.
As usual, Epic Games released a tweet on the Fortnite Status account with details regarding when the Fortnite servers will go down on 7th September 2022. The servers will go down at 4 AM ET (9 AM BST) with matchmaking being disabled thirty minutes prior.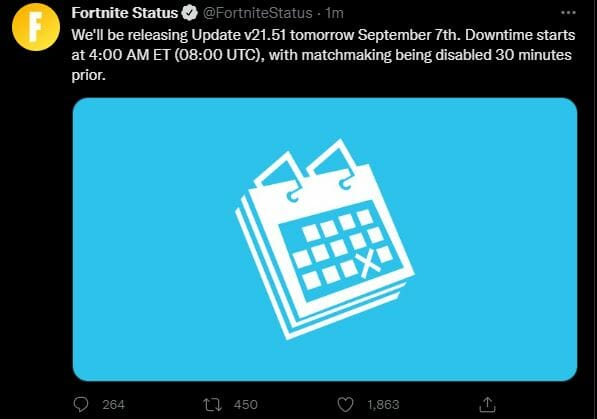 Players complained that they were kicked out of their game a few minutes earlier than the planned time for matchmaking being disabled, so we'd recommend not entering a game forty-five minutes prior to the servers going down.
When Will the Servers Be Back Online?
We get this question with the release of every new update. Epic never state when the Fortnite servers will be back online, but they're usually only down for an hour or two. We'd expect the servers to be back online at 6 AM ET (11 AM BST). We'll keep you updated with the latest and update this when the servers are back up.
Fortnite 21.51 Update Patch Notes
Before a major update, we usually know what to expect thanks to leakers. However, we don't know what Epic will be adding in today's 21.51 update. However, it's highly unlikely that there will be any cosmetics added in this update.
We should either see event files being added and leaked from the 21.51 Fortnite update or we'll see some challenges and smaller-scale events taking place on the map. As always, we'll be posting any news and leaks from the latest patch release.
21.51 Fortnite File Download Size
We don't expect the 21.51 Fortnite update to be large, but we'll update the article with the download size for each platform as soon as the patch has been released.
The post Fortnite 21.51 Update Today Early Patch Notes – 7 September 2022 Server Maintenance Downtime, Download Size appeared first on Fortnite Insider.